HD Kitchen ideas
Kitchen is real living space. It's important to think about elements that make it up when you want to create your kitchen from A to Z or make it over to your taste!Discover here some decoration ideas for your kitchen thanks to 3D plans created by our architects on the Kozikaza 3D planner tool. Don't wait to begin your kitchen project!
Read more
Industrial workshop kitchen
Country house style Kitchen
Large scandinavian opened kitchen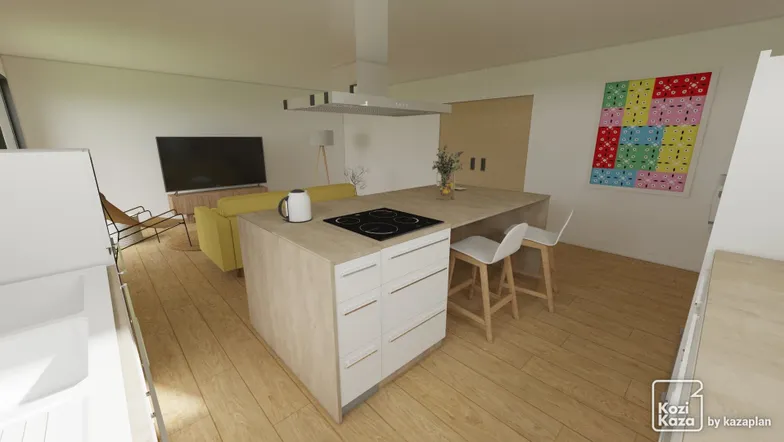 Black contemporary and white marble kitchen
Pastel blue vintage kitchen
Timeless white and wood kitchen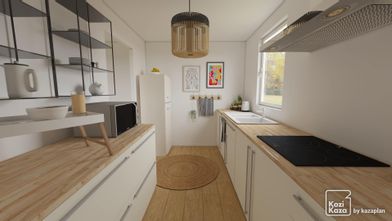 The powerful and realistic 3D plan tool
FreeFree software with
unlimited
plans

SimpleAn intuitive tool for
realistic bathroom
design.

Online3D plans are available
from all
any computer
Create a 3D plan
White and gray design kitchen
Professional white and steel kitchen
Bohemian chic kitchen
Factory loft large kitchen
Bistro style family kitchen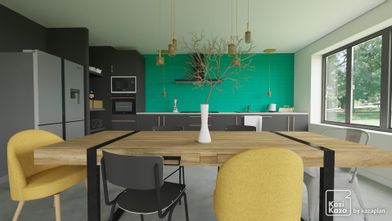 Matt black minimalist kitchen
Scandinavian style fitted kitchen
Small modern kitchen
Attic kitchen with glass roof
When you want to start designing your kitchen, it's important to ask yourself some questions. Are you more open-plan, contemporary, industrial or countryside chic kitchen, or do you prefer a loft-like, Scandinavian or rustic style?
To help you, we offer a gallery that includes photo-realistic ideas made by our architects using the Kozikaza 3D plan tool. You will find many layouts, for open or closed kitchens, large or small sizes.
For starters, would you like an equipped or integrated kitchen? You should know that if you opt for the second option, the lines of your new kitchen will be more refined.Once you have answered this question, you will be able to choose your furniture and appliances. This first step is essential since it will influence the style of the kitchen.Choosing black or metallic colours kitchen cabinets will immediately add a design touch and industrial.On the other hand, if you want a style that's more vintage use a china cabinet or a buffet for a more retro atmosphere.And, for a refined kitchen, do not hesitate to opt for open shelves! Using a kitchen island worktop will add a family feel to your interior while giving you a larger work surface.Add bar stools and turn your island worktop into a counter for a real dining area.If you prefer an understated kitchen, the island fits very well in minimalist interiors.For taps, it is essential to coordinate sinks and mixers with your high furniture, chairs, tables and other equipment of your kitchen! A coherent ensemble will give the room a unique identity.
The materials and colours used for wall and floor coverings should not be neglected since they can add some pep to your room.Why not mix looks and use different materials?Combining concrete and black gives your room an industrial effect while using wood and white will give a Scandinavian and warm look to your kitchen.For example, white is perfect for a small kitchen that will immediately look more spacious.For more dynamism in your room, do not hesitate to mix renderings using different materials: glass, stainless steel, wallpaper, bricks, etc.You can opt for a total mismatched look for a beautiful kitchen with an eclectic and timeless style.Final element that should not be neglected: the backboard, which can match your work plan or be a real decorative element.There are as many materials as there are combinations to decorate your kitchen. The most important thing is that everything reflects your personality and lifestyle.
Light fixtures will also be important to add style to your kitchen.Don't forget that this is where you'll be preparing delicious meals.Spotlights can be used to illuminate a countertop more evenly for example, and hanging lamps can be used for a more decorative effect.Know the difference between functional lighting and decorative lighting for optimal rendering!
Accessorise your room to bring it to life and add a cosy atmosphere.You can easily find original objects that perfectly match the theme of your room or, on the contrary that strike the opposite tone.You will see it very quickly on some of the proposed kitchen ideas; decorative elements make a difference!
Here we offer kitchen photos that will help you build your kitchen and choose the look that suits you.
Whether you prefer a white lacquered kitchen, natural materials or cement, you will find a set of kitchen styles to inspire you. Laminate, anthracite, polished concrete, wood or even granite: discover inspiring decorative trends for all types of kitchens.
If you're inspired by a piece of furniture, a fixture or a decorative element, or want to see the detailed plans for a particular kitchen, check out its 3D plan. The Kozikaza 3D tool allows you to project into the room, see the luminosity or find out what type of decoration would be best with your theme. The exceptional photo-realistic rendering immerses you in your project as if you were already there!
Back to top