HD Bathroom ideas
As part of house building or bathroom remodelling, we first need to draw inspiration from bathroom ideas!Here you can find 3D bathroom ideas in high definition, all created by Kozikaza's architects! Get inspired to get your bathroom started right!
Read more
Idea small bathroom in length with soft colors
Idea small modern bathroom, black and white
Idea small Scandinavian bathroom in the attic
Idea small Zen bathroom hammam spirit
Idea small vintage-style marble bathroom
Idea small modern bathroom, black and white
The powerful and realistic 3D plan tool
FreeFree software with
unlimited
plans

SimpleAn intuitive tool for
realistic bathroom
design.

Online3D plans are available
from all
any computer
Create a
bathroom plan
Idea small Italian shower bathroom, mineral spirit
Idea small rough modern bathroom decor
Idea Zen bathroom, green and wood tones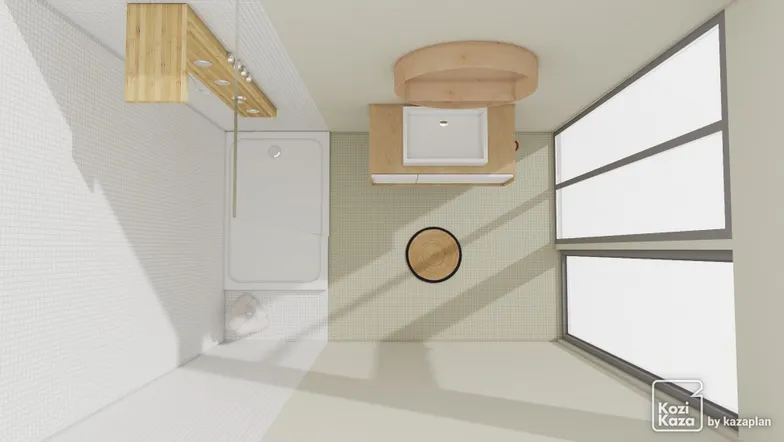 Idea bathroom cocoon in pink tones
Idea of ​​black and wood bathroom, modern
Idea modern bathroom in length, black, wood and yellow
Idea of ​​graphic bathroom and wood in length
Idea modern bathroom, green tones
Idea of ​​industrial and vintage bathroom
Idea retro bathroom spirit 50s
Idea black and gray bathroom, modern
Idea original bathroom with Italian shower, bath and dressing room
As part of your bathroom design project, you will ask yourself the question of decorative style: Are you more of an Italian, contemporary, industrial or design bathroom? Or are you modern, Scandinavian or zen? Find bathroom decorating ideas for all tastes!
Give life to your atmosphere by choosing your bathroom furniture, and the equipment such as bath or shower, washbasin or even the storage units you will opt for. For example, a free-standing bathtub will fit perfectly in a modern bathroom, while a clawfoot tub will be perfect for a retro bathroom. An Italian shower, whether it is with a tiled shower tray or a low profile tray, will blend perfectly into any bathroom, and the "open shower" side will enlarge the room. A glass-style screen for your shower is perfect for adding an industrial touch. Finally, a storage unit will not have the same effect according to its shape, its material and its colour: a suspended furniture will be welcome in contemporary bathroom while a stone vanity will give a raw and minimalist side to the room.
Wall coverings, floor coverings and decorative elements are also important for style. Bathroom tiles, for example, can become a key element: building on an original floor with cement tiles or polished concrete floor, you'll create a trendy bathroom, whereas by opting for a grey tile or a more classic and neutral white tile, the paint or decorative accessories can be bolder ​​to add your touch to your beautiful bathroom. Some paint colours or some graphic effects will add modernity, while natural stone or wood (especially light wood) bring a real raw, natural and timeless touch.
Bathroom decoration is also very important... and by this we mean all the decorative elements, right down to the soap dish! Accessorising your bathroom with a few original objects can allow you to change the atmosphere of your bathroom easily, according to your desires. You'll see it in some of the bathroom ideas below: whether they are associated with a minimalist style or a bathroom with an already well-established style, decorative objects can make all the difference. Niches create extra storage space and look great, whether it's for towels or decorative items.
The colours and materials you choose will set the tone and can give the room a unique identity.
Tip: do not overload the room by using too many different materials, colours or decorative objects. This room must remain a place of relaxation where you take care of yourself but also a functional room. Pick a style and go for it, but not too much!
The bathroom images you will find here will give you plenty of ideas for designing your bathroom and choosing the style that suits you.
Whether you prefer an Italian bathroom, a designer bathroom or a black bathroom, you'll discover all types of bathrooms... But also lots of ideas for your zen bathroom, your nature bathroom, your black and white bathroom or your wooden bathroom... In short, we'll give you an overview of all the inspiring decoration trends.
Does a particular piece of bathroom furniture, bathtub or decorative element inspire you? Would you like to see a bathroom in more detail? Check out the 3D plan from which the bathroom image was taken and project yourself into the room and its decorating style thanks to 3D! You will then be able to see all the details of the plans created by our architects.
Back to top